Kaltura 360° Video

Kaltura is a media content library integrated within Canvas, which enables interactive 360° videos. On this page, you will find steps to assist in uploading and embedding 360° video content. We will demonstrate how to record 360° videos, convert them using Kaltura, and integrate them to Canvas sites through 'My Media'.
You can test a live example of this method within the ABP BEL+T Canvas Community. Click here to access. If you have not yet enrolled in the ABP BEL+T Canvas Community click here first.
When is it best to use 360° videos in Kaltura?
When you have captured your site in video format using a 360° camera or you have access to 360° footage.
When you are looking for an alternative host for 360° video to ensure student access (firewalls may prevent students from accessing YouTube and other sites).
When trying to capture moving elements within sites i.e. foot traffic.
Considerations to keep in mind:
If you were wanting to capture a site yourself, special 360° equipment is required. The ABP Loans desk has a range of 360° equipment available for staff and students to borrow.
What is 360° Footage?
360° images and videos are special file formats that allow users to experience spatial and environmental qualities through a sequence of stitched images captured from a single point in space.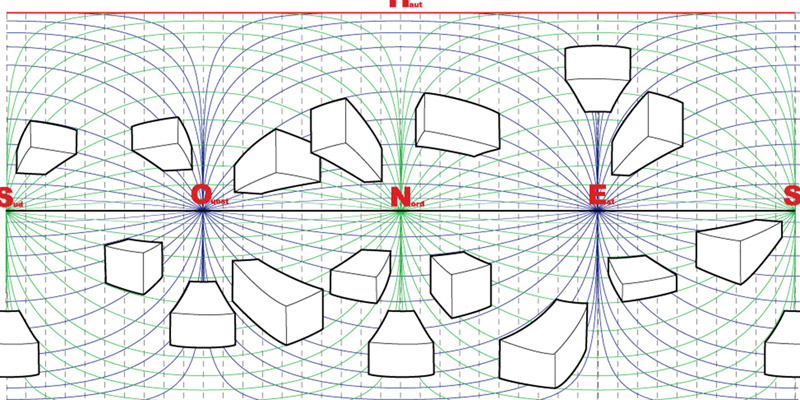 Understanding 360° file formats
Generally, most static images/photographs can be converted into a 360° image. Media platforms such as Kaltura convert these static images and 'wrap' them to create a 360° environment.
You can also produce 360º images (panoramas) and 360º videos using specialised 360º cameras. The ABP Loans Desk has many 360º cameras available, which can be booked through the Loans Portal (staff-login required). BEL+T recommends using the InstaPro2 Camera, as it captures the highest-quality 360º images and videos. BEL+T has produced a video guide on how to use the InstaPro2 camera (see below).
Uploading to 'My Media'
Kaltura hosts a range of media content that allows Canvas to recognise and integrate files through the My Media interface and does not contribute to a subject's data limit. The benefit of linking files through My Media is this enables greater control through a centralised location, meaning embedded files throughout the Canvas site will update accordingly.
To upload content from your local computer into Canvas, first locate My Media on the left-hand side panel.
Step 1. Upload from PC
To upload new content, select the Add New tab in the top-right corner, and choose Media Upload from the list of options.
Click on the Choose a file to upload button and select the 360° video to be uploaded. The file should now be successfully uploaded.
Converting 360° Videos
Once the file has uploaded successfully, Edit the details of the video to enable the ability to convert the uploaded file format into an interactive 360° video.
Step 2. Tag '360°'
1. To convert the uploaded video to an interactive 360° video, add a 'tag' to the uploaded file details by typing "360" and selecting 360 from the drop-down selection.
2. Click Save to save changes.
Step 3. Ensuring 360° Conversion
1. Go back to My Media to ensure the file has been uploaded and that video conversion is processing. Once complete, the uploaded video has now been converted to an interactive 360° video format.
2. To look around and interact with the video simply click and drag within the video frame to rotate your view.
3. The video can now be embedded within a Canvas page.
Embedding 360° Content
My Media hosts uploaded media content through Kaltura and can be used to embed files throughout a Canvas Site.
Edit pages
Editing Pages in Canvas can be done in two ways: using the Rich Text Editor and/or HTML Coding. To embed media content from My Media, simply 'edit' specific pages and select the file to embed.
Step 1. Accessing the Rich Text Editor
1. Locate the desired page and click Edit, found in the top-right corner of the page to enter the Rich Text Editor (RTE) .
2. Once in the RTE view, locate the "plug" icon on top of the workspace to select Apps.

Embed from Kaltura
Uploaded files through My Media are accessed through Kaltura Media and can be embedded directly to Canvas pages through its centralised library.
Step 2. Embed content
1. To embed files, select Embed Kaltura Media from the list of selections. Alternatively, you can type "Kaltura" into the search bar.
2. Select a file from the media library list by clicking Embed to upload the selected video.
3. The selected file is now uploaded onto the designated page. Click Save to save changes made.
Step 3. Interacting with 360° videos
Preview the uploaded file to ensure it operates as an interactive 360° video.
1. To interact, click and drag within the video frame to change your field of view.
2. The file is now uploaded and ready for publishing. When you are ready, click on Publish at the top of the workspace.